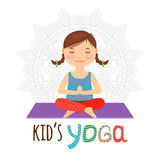 Now Teaching Kids Yoga Classes!!
Ages 3-5
Benefits of Yoga for Kids
The fast pace of our children's lives can have a profound effect on their happiness. The hustle of trying to get out the door in the morning to get siblings to school, or off to daycare. Trying to fit in a trip to the grocery store before dinner time..
Pressure at school, competitive sports, and the daily busy lives of parents trying to be all we can be and fit in everything in a day can become overwhelming. We usually don't think of these influences as stressful for our kids, but often they are.
Yoga can help counter these pressures~
By practicing yoga poses, children can learn how to exercise, breathe, develop confidence, and concentrate better. When children learn techniques for self-health, relaxation, and inner fulfillment, they can navigate life's challenges with a little more ease. Physically, it enhances their flexibility, strength, coordination, and body awareness.
In addition, their concentration and sense of calmness and relaxation improves. Doing yoga, children exercise, play, connect more deeply with the inner self, and develop an intimate relationship with the natural world that surrounds them.
Using the breath as a positive tool as they get older will help them to stay calm, focus and be mindful of how much they take on. Yoga brings that marvelous inner light that all children have to allow them to shine even brighter.
In the 45 minute class we will focus on
Breathing
Meditation
Postures
Positive Songs
Stretching
Interactive Game
Learning to "Be Still"
Listening to our bodies
Class is offered in 6 Week Sessions for $72~ (45 minutes)
Must have minimum of 5 kids registered to hold class per session~ Maximum of 8
2 week Break In between Sessions
I am looking forward to bringing more peace into the world~
Blessings,
Teal